Polyplex™ is a specifically formulated, all-acrylic latex polymer emulsion, which can be used in GFRC mixes to eliminate the necessity for seven-day wet cure.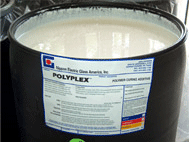 Advantages
Until the introduction of the acrylic polymer GFRC products required a seven-day cure in over 95 percent humidity in order to insure full curing of the Portland cement. This usually meant building wet rooms where the product could be stored in the required wet environment.
Where manufacturing was done in an enclosed building, the provision of a curing area resulted in the loss of valuable production space. Where manufacturing was essentially performed outside, the provision of a satisfactory curing area was difficult, if not impossible.

Polyplex™ polymer eliminates the need for the wet curing period and the associated costs of curing areas and lost production space. These cost savings more than offset the added cost of incorporating Polyplex in the mix.

Polyplex™ provides added workability to the GFRC mix and , particularly better adherence to vertical mold surfaces, so reducing the tendency of the wet mix to slide. It is suitable for use with both white and gray Portland cements.

Polyplex™ does not yellow when weathered, and is it will not discolor panel finishes, as some acrylic polymers can do.
Principals of the Polyplex™ polymer curing effect
Because it is thin, compared to conventional concrete (one half inch compared to three inches or thicker), GFRC without polymer can lose water by evaporation too quickly. GFRC composites had to be stored in a wet environment to maintain sufficient water in the composite and ensure complete hydration of the cement.

Polyplex™ when added to GFRC mixes at the recommended level, does not change the hydration process of Portland cement. It's the function is to reduce permeability during the first few hours of cure, first on the surface by forming a sealing film and then within the composite. This reduced permeability in the composite significantly lessens the loss of water by evaporation, facilitating the full hydration and cure of the Portland cement.

Excessive loss of water during curing, to such an extent that there's not sufficient water remaining to fully hydrate the Portland cement, will result in low cement and composite strengths. Further , there are no remedial procedures that will retrieve the composite strengths if the initial cure is not done correctly.